Eclectic Variations on Your Typical Hotel Room
Floating, movable, repurposed: MAADS Hotels Collection is now adding eclectic rooms, firstly in Koh Pich (Diamond Island) area, near or on the River.
Two of these options for urban staycation are inspired by The Jungloo concept: Jungloo Park, a new version of the initial tented bungalow we have developed since 2016, and Floating Jungloo, next to Floatation, the trendy floating lounge and bar.
Next, singular rooms will be developed within repurposed structures: the Treellion Park water tower, offering a spectacular view on Phnom Penh Four Rivers, and reconverted containers on the river bank.
With the same streamlined decoration and furniture that has become MAADS signature, each accommodation is informed by its specific environment, giving out a different sense of space and mood, a new kind of connection with the urban context.
Eclectic, as in 'deriving ideas, style, or taste from a broad and diverse range of sources'. And eclectic as in a philosophy of space inviting to 'think out of the box', to reinvent repurposed structures in a fresh perspective.
Floating Jungloo: The River and You
Initially active on the Areksat shore, the floating bungalow has just been refurbished and updated. Overnight in style on the water, with the new Phnom Penh suspended bridge in the background.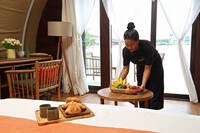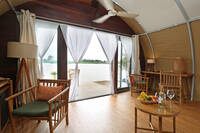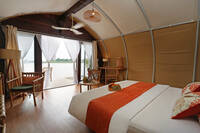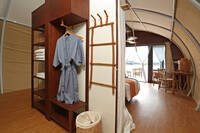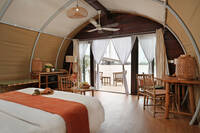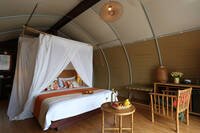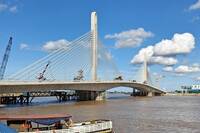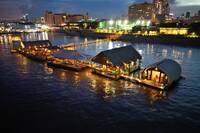 Floating Jungloo Discovery Rate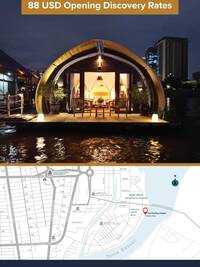 Starting from Phnom Penh Water Festival 2023, spend a memorable night on the Mekong River and save!
Bookings: email us or call +85577406185
Jungloo Park: Jungle Feel in the City
Shaded by Treellion Park trees, Phnom Penh largest green space, the Jungloo V2 offers high ceilings, natural ventilation, privacy open to verdant environment.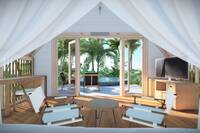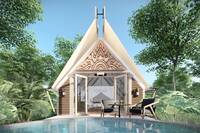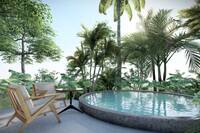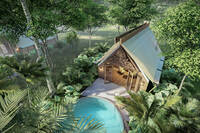 Size: 50 m2
King-size bed
En-suite bathroom, separate toilet, lounging area, desk, terrace overlooking the river.
Guests: 2 maximum.
Dinner and drinks next door at Floatation
Rates: 88 USD (breakfast included)
Booking via Airbnb & Booking.com
The Towering Room
Repurposed water tower overlooking green areas and rivers. When you feel like staying above the fray.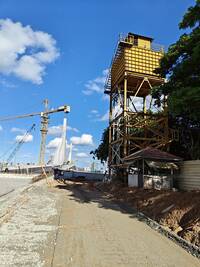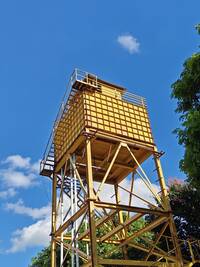 Size: in development
King-size bed
En-suite bathroom, separate toilet, lounging area, desk, wraparound balcony with breathtaking views (15-meter high)
Private plunge pool
Guests: 2 maximum.
Rates: 88 USD (breakfast included)
Booking TK